There is nothing like having no money to make you appreciate having even a little. As I've told you before, last year was the year God thought he would make us be totally dependent on Him for our finances. Not that we have ever been rolling in it, but when we attempted to make out a budget, we weren't even making what our bills tallied. Therefore, we had to ride on trust. Whoa, did God ever show us!
I'll never forget the deals I got on photo gifts for our families. Looking at our Christmas list, I had no idea how I was going to do gifts (and I LOVE buying presents). Fortunately, I learned a lot (very quickly!) from mommy bloggers on how to buy from great companies when the deals were hot. Shutterfly was one of those companies and I was thrilled to see the quality of product they produced.
I ended up getting my dad a mug of Elizabeth covered in spaghetti.
For Barry, I made a calendar of Elizabeth.
http://www.shutterfly.com/calendars
I made photo books with a little story for each set of grandparents.
http://www.shutterfly.com/photo-books
This isn't even going into how I've used them this past year for collage prints and mouse pads and travel mugs...and their promotions are so good that I've spent very little money on them.
Which leads me into this promotion. Shutterfly is now running a promo for bloggers to write about their Christmas cards. YAY!! I just happen to have these AWESOME pictures that Stephen took of our family and have been looking for a great deal to get some cards made. (All this shocks you, I know.) So the great deal is that I can write about how much I LOVE Shutterfly (easy) and share it with you people and they will give me 50 free cards. DOUBLE YAY!!
Now, which picture to use? Oh, and which card. If you haven't flipped through their selection, it is AWESOME!! I'm not sure which cards deal with the promo but I'd love one of those flip open ones...oooo, fancy! However, the classic single pane family shot would be nice too. I love trimming those and keeping them in the photo album of YOUR kids! Shutterfly is easy to download and quick on delivery.

There's my promo! I'm off to make my free cards!!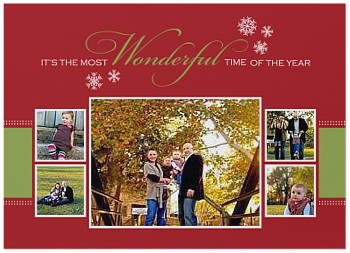 Most Wonderful Year Christmas 5x7 folded card